07/31/2023
Comments Off

on Oxford Night Lights
Bundle up and join us uptown as we turn our uptown into a glittering winter wonderland!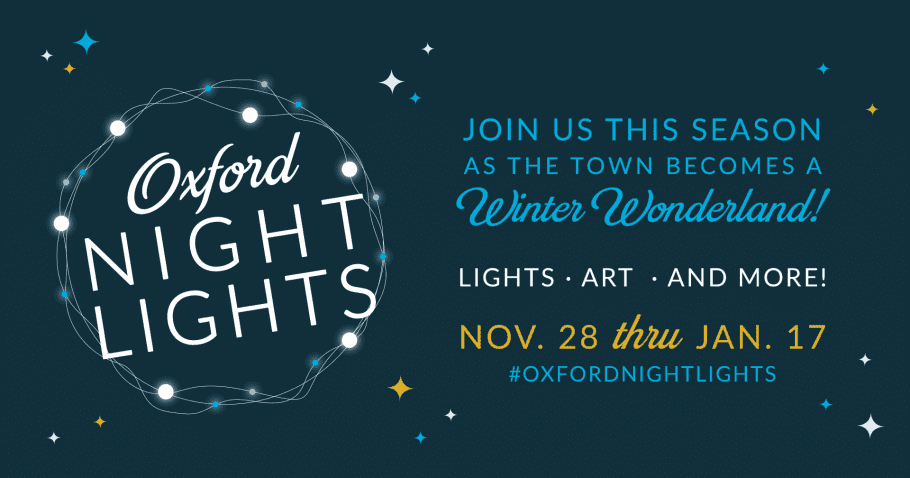 Ready to become a fan of long winter nights? Hear us out! The Oxford, Ohio community has come together to turn our Uptown into a glittering winter wonderland that will have you eager to bundle up and get outside. Simply walk down High Street, the red brick road that runs through our historic entertainment district, and take in a number of sparkling, unique attractions. (Please note that attractions will be rolled out and changing over the course of the season.)
We're pretty sure you won't be able to resist taking and posting photos of these nighttime splendors. Make sure to tag #OxfordNightLights when you do!
​
Safety first: We ask that you enjoy #OxfordNightLights with the same safety precautions we've all come to know and practice regularly. Wear a face mask (it is required in high traffic areas such as our Uptown streets) and practice physical distancing. We recommend you only go out with people in your household, and to carry hand sanitizer for when you're not able to thoroughly wash your hands. Learn more about Oxford's COVID safety here.
Lights, Lights, Everywhere
​There are murals in the Uptown park painted by local artists ranging from hobbyists to young residents. These community-made murals look one way during the day and then transform at night once they're glowing under the magic of blacklights.
A beautiful, twinkling display of lights is strung all around the outside of the Oxford Community Arts Center (10 S. College Ave.) with additional installations placed throughout the grounds. Imagine this: interactive art, a sensory garden, and a five-paneled mural on the pavilion. Keep coming back because each week there will be an unveiling of a new display. And keep your phone charged because everything you see on the grounds, from the luminaries to the hanging poetry, is definitely Instagram-worthy.
While you're at the OCAC, join a fun scavenger hunt in the gardens. There are four mailboxes, all of which have postcards and wintery stamps in them. Find the mailboxes, cover your postcard with all the different stamps, and then send to a friend!
​Take a break from light-gazing and stop by the Enjoy Oxford office (14 W. Park Place, Suite C.) where we'll be projecting winter-themed movies in our window for your viewing pleasure all season long. Movies will begin at 5 PM daily. Stay tuned for a film schedule. And don't forget the popcorn.
​Bistro lights are strung high near the pavilion uptown which, along with additional picnic tables placed around the park, make the perfect setting for some nighttime drinks and dining. Get takeout from your favorite local restaurant and enjoy it under a starry nighttime sky.
Support Local
​You can enjoy all these fun outdoor attractions while sipping a drink from a local business thanks to the Designated Outdoor Refreshment Area (DORA). We recommend staying warm with some delicious, festive flavors on our Winter Drinks in Oxford list.
Need to get your holiday shopping done while you're out on the town? We've put together a Winter Decor and Dressing Warm guide so you'll know exactly where to go to get some seriously fun winter-themed goodies, including clothes to keep you so warm that you'll be able to stay out enjoying the lights all through the night.
And don't forget your #OxfordNightLights Passport, a fun incentive for exploring Oxford businesses this winter. Go into three participating businesses and you'll be eligible to win a prize. Go into five participating businesses, you'll be eligible to win an even bigger prize!
​Passports can be picked up from either the Enjoy Oxford office or the Oxford Community Arts Center or downloaded and printed at home.
Igloos
Personal igloos have popped up in the Uptown Park! Sit, relax, and warm up in these adorable little tents. There are windows and doors for ventilation, as well as sanitizing stations inside so you can clean the area before and after you sit down. Let's have fun and stay safe at the same time.