Oxford Wine & Craft Beer Festival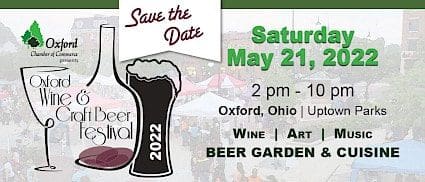 The Oxford Chamber of Commerce is hosting its 14th annual Wine and Craft Beer Festival from 2:00 - 10:00 pm on Saturday, May 21st in Oxford's Uptown Memorial Park (4 N. Main St.). The Oxford Wine and Craft Beer Festival is a three-time winner of Ohio Magazine's Best Wine Festivals in 2014, 2015, and 2016. Attendees can enjoy a variety of international and domestic wines and craft beers.
​
Once again the festival will feature an exciting set of local musicians. Scheduled in this year's lineup for Live Music Performances include:
2:00-3:45 PM Noah Back
4:00-5:30 PM Lisa Biales Trio
5:45-7:30 PM Wood n Steel "Revival"
7:45-10:00 PM Wildhart Band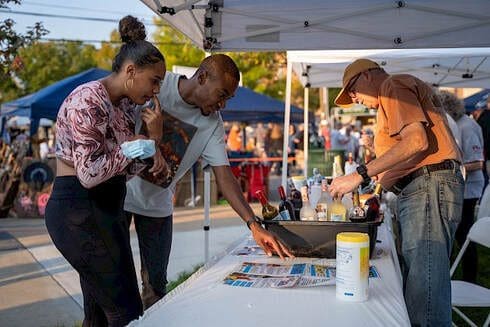 There will be opportunities to browse a wide variety of booths featuring works from local artisans as well as a range of food favorites (see the list here). Proceeds from the festival will support Oxford's Chamber of Commerce scholarship fund.
Tickets for the festival will be available online for $25 beginning on Monday, April 4th through Thursday, May 19th at 5:00 pm. Tickets can also be purchased before the date of the event at either the Chamber of Commerce office (102 W. High St.) or the Enjoy Oxford office (14 W. Park Place, Suite C). A ticket buys your wristband, five "tasting tickets" (to be used for both wine and beer), and a souvenir wine glass. You can purchase additional tickets at the event for extra wine/beer tastings: $10 for 5 more tastings. (Forgot to get your tickets early? No problem! Day-of tickets at the event will be available for $30.)
​
Online tickets will be redeemed at the WILL CALL ticket booth on the day of the event.
Several hotels in Oxford are offering special rates so that you can enjoy a few drinks and then stay in town overnight on Saturday! Make sure to call the hotel for your reservation (these sell quickly!) and ask for the Oxford Wine and Craft Beer Festival special rate.
​This event will happen rain or shine and is the perfect way to spend a spring day (or weekend). We hope to see you there!