Oxford's a very walkable town but there are still times when you'll want your car, especially if you've just driven into town. But where to park? There are several options in town and on the Miami University campus, whether you need to park for an hour or a whole day.
Click here for all Oxford Parking locations
​* Note: the above page talks about parking permits. Only WHITE permits are free of charge.
Beginning in 2020, the City of Oxford launched new SmartMeters which accept credit cards as well as quarters, dimes, and nickels. See the demo on how to use Here. You may also use contactless payments for ALL meters through the ParkMobile App (check out the App here).
​If you're parking in town there will be plenty of metered spots ranging from two hours (such as on High Street) to eleven hours (such as sections of Church & Walnut Street). All meters will have the maximum time posted on them so make sure to have a look first.
Meters are FREE on Sundays and after 8:00 PM Mondays - Saturdays.
The Enjoy Oxford office has a fold-out map with all the parking locations in town. You can also download the map here.
There's a 24-hour parking garage (you can park your vehicle overnight here) located in town at the northwest corner of South Main Street and West Walnut Street (get directions here). Also located in the uptown district is the Parking Lot located at 21 North Main Street (get directions here). Both the Parking Garage AND the Uptown Parking Lot use Pay Stations (view how to use here) rather than meters. Keep in mind that you must have money in the meter at all times, including Sundays.
The upper levels of the parking garage are reserved for guests of the Elms Hotel and leased parking spaces.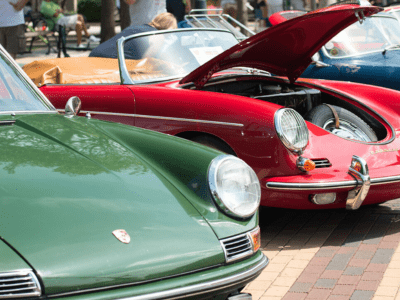 If you're parking on the Miami University campus, you can use a credit card at meters or at parking lot kiosks.
Keep an eye out, however, because some parking lots require specific permits such as the "red lots" that require a faculty/staff permit. There's good news, though! You don't have to have a faculty pass to park in these lots, but you do need what we jokingly call a "Hunting License" which is a visitor parking pass that doesn't guarantee you a spot but does allow you to "hunt" for spots in "red lots" and others. The pass only costs $3 a day. You can purchase it here.
For more information on where you do and don't need a parking permit on campus, click here and scroll to the bottom where it says Visitors.
Miami's campus has two parking garages that are open to the public every day. Plan accordingly and download, Miami University is a cashless campus!
South Garage

 (also known as the Campus Avenue Garage | 501 S. Campus Avenue)
$1.00 for the first hour, .50 for each additional hour

North Garage

 (also known as the Academic Parking Structure | 100 Withrow Lane)
$2.00 for the first hour, $1.00 for each additional hour
If you're in town for a conference or you're with a visiting sports team, it's possible that your organization has set up parking accommodations for you. Make sure to speak with your event organizers for any details about these possible arrangements.
For more resources, visit the Frequently Asked Questions Here: FAQS.