07/31/2023
Comments Off

on Red Brick Reunion Porsche Car Show
Red Brick Reunion Porsche Car Show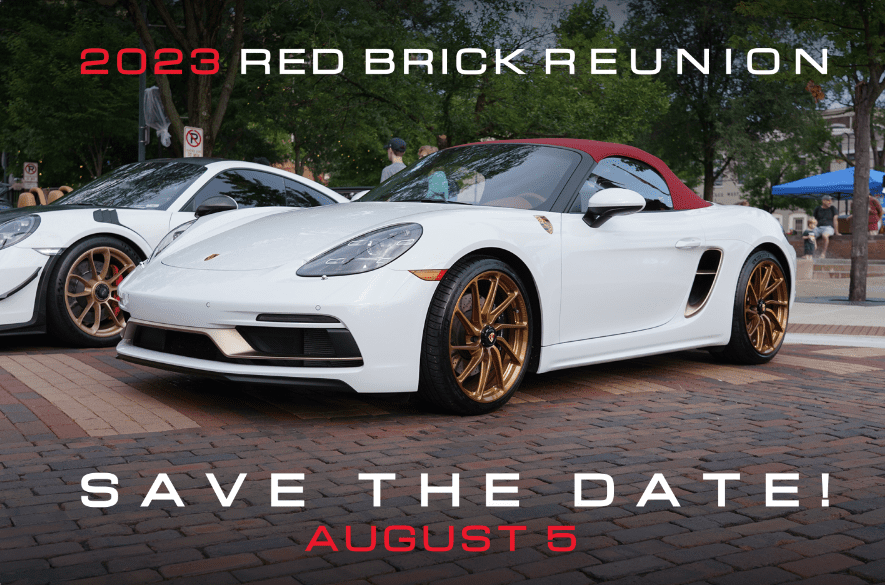 The annual Red Brick Reunion (RBR) Porsche Car Show is coming back to Oxford for another day of beautiful cars on red brick streets. This year the show will take place up and down High Street in Oxford's uptown historic district from 9:00 AM – 2:00 PM on Saturday, August 5, 2023. High Street will be blocked off to ensure the safety of attendees as they walk freely on the road, enjoying the cars on the display.
Psst. And did you know Oxford has a DORA? What's DORA? Glad you asked! Get "In the Know" Here!
Want to Register Your Car?
Pre-register online by August 2nd or register the day of the event for $55. If you pre-register, you are guaranteed both a swag bag and a t-shirt.
The RBR car show boasts Popular Voting (even spectators can complete a ballot!), Concours Preparation Class and Sponsor Choice Awards. The Concours Preparation class is judged by PCA-trained judges who will review and score the level of show preparation of each car.
There will be door prizes announced once every hour.
Or Just Enjoy as an Attendee
There will be live music on the pavilion stage in the uptown park courtesy of The Fries. Walk the streets and look at the cars, then grab a bite to eat at one of our many locally-owned restaurants. Then come back outside and get comfortable in the park while listening to music. It's free to simply walk around and enjoy the show!
Friday, August 4th
5-8 PM — Kick Off Social at Left Field Tavern (All are welcome! Stop by, have a drink, and converse with your fellow Porsche enthusiasts.) Light snacks with a Cash bar. 12 W. Park Pl, Oxford, OH, 45056
6-10 PM — Red Brick Friday on High Street –Books on the Bricks (Live music, children's story hour, new and used book sales, the Book Mobile, & food trucks)
Saturday, August 5th – Show Day
8 AM — Parking & Welcome Booth Open (Stop by to get your t-shirt, poster & swag bag.)
9 AM — Show Opens/Voting Begins/Posting of the Colors
10 – 1 PM — Door Prizes Awarded on the Hour
10 – 1 PM — The Fries Band
12 PM — Voting Closes
12 PM — Grab lunch at one of our local eateries
1 PM — Awards Ceremony
3 PM — Parking Opens to Public
See you on the bricks!