11/13/2022
Comments Off

on Public Recycling in Oxford, Ohio
Public Recycling in Oxford, Ohio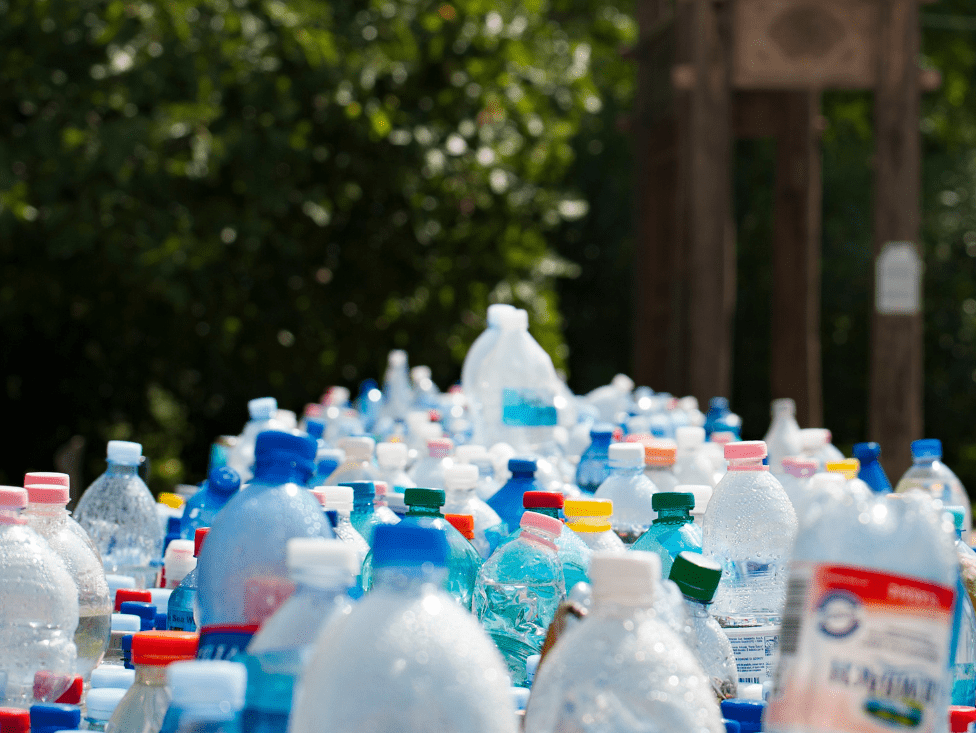 Oxford is a city that continues to take environmental sustainability efforts very seriously, from using composable DORA cups to banning the use of polystyrene containers in our local restaurants.
We recognize that recycling is one of the easiest ways we can also make a daily difference in protecting our planet. If you have curbside recycling then you'll simply take any of your materials deemed acceptable for recycling and put them right in your own personal bin, which you'll then drag down to the curb for pickup on the designated day. Easy!
​But what if you don't have a curbside pickup or you live in an apartment complex that doesn't have a handy recycling dumpster in the parking lot? Fortunately, Oxford has some convenient options for public recycling so you never have to feel guilty putting an aluminum can in the garbage bin again. (It just looks so wrong in there, doesn't it?)
Ditmer Field Parking Lot
Open 24-7, these five recycling dumpsters (also called drop-off boxes) can be found in Miami University's Ditmer Field parking lot. Located on the east side of Oxford off of SR 73 (Trenton Oxford Road), this parking lot is just across the road from the Miami Equestrian Center. The dumpsters are located south of Miami's police department building, back in the southeast corner of the parking lot.
Behind TJ Maxx
If you live in the mile square then you may find the clearly marked Rumpke recycling dumpsters near the Miami University Culinary Center (426 Wells Mills Dr.) a little more convenient. Located right behind TJ Maxx, these dumpsters are open 24 hours a day to the public. A helpful guide on recycling (such as which materials are appropriate to recycle) is plastered on the side of the dumpsters, so make sure to double check if you're unsure about what's okay to put in there. For example, cans and bottles: yay! Plastic bags: nay. Which leads me to my next point.
Other materials
Plastic Bags
It's a running joke that you know you're an adult when you have a plastic bag filled with other plastic bags somewhere in your kitchen (mine is in a cupboard right next to the crockpot). If you don't have reusable shopping bags, you may wonder what to do with all the plastic bags you accumulate after every trip the grocery store. Fortunately, the Oxford Community Choice Pantry (400 West Withrow St.) can take those bags off your hands! Additionally, Kroger has two recycling bins right inside both entrances for plastic bags. The one inside the right entrance is tucked in the corner between the RedBox and the toy dispensers and can also be used to recycle dry cleaning sleeves, bread bags, and shrink wrap.
Batteries
​Have old batteries taking up space in your junk drawer? Don't throw them away or recycle them in the drop-off boxes listed above. Instead, have fire safety in mind and take your old batteries to Ace Hardware (300 S. College Ave.) who will recycle rechargeable batteries, or Moon Co-Op (512 S. Locust St.) who will take all of your batteries, rechargeable or not.
Old Holiday Lights
Okay, we know this may be a bit of a drive but it's worth it, we promise! Great Parks of Hamilton County is partnering with Cohen Recycling in order to provide six drop-off locations throughout the greater Cincinnati area in order for you to recycle old holiday lights that no longer work. Don't just throw 'em in the trash, throw 'em in a marked bin at one of the locations listed here. Instead of ending up in a landfill, these lights that once made your home sparkle for the holidays will be collected, recycled, and given a new life. Talk about a happy new year!
More Tips
The Butler County Recycling and Solid Waste District have provided Oxford with our public recycling dumpsters (thank you!) and have a lot of information on their website, including the following infographic, to help you best prepare your recyclable materials. If you have additional questions, give them a call at (513) 887-3653.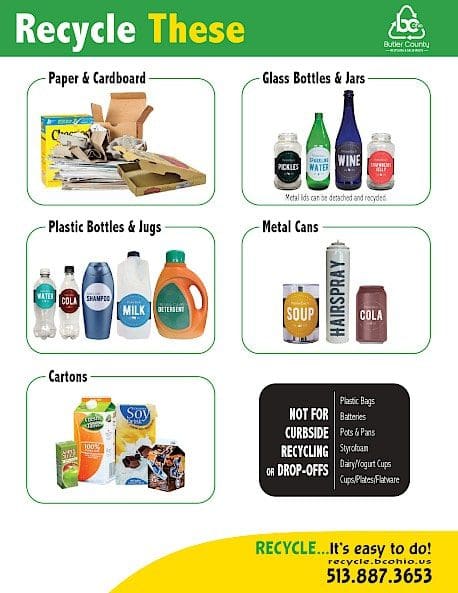 For even more information on which items can be recycled, check out this comprehensive A – Z list as well as this Solid Waste Recycling & Disposal Guide.
Whether you're recycling at home or using a local recycling drop-off box, every little thing you recycle is one less thing to take up space in a landfill, which means a healthier and happier planet for us all. Corny? Yes. Important? Also yes!

​Many thanks to David Treleaven from the City of Oxford for confirming some information for this blog post.